Payments for claims are paid through ECHO Health (https://www.echohealthinc.com/).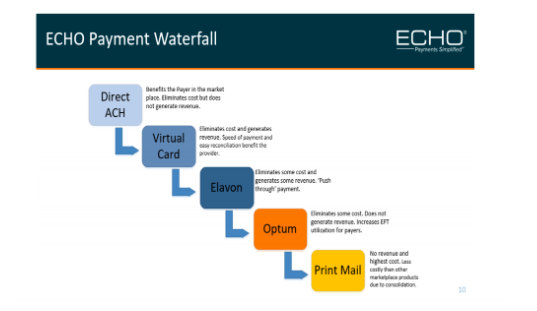 If your office has submitted a claim to Sana Benefits, payment should be processed within 30 business days or less. Your office will receive payment electronically if your EMR system is compatible with ECHO, if it is not you will receive payment by check to the provider address listed on the claim. Please see the ECHO Payment Waterfall regarding how payment is administered.
If you'd like to change your payment method preferences please contact QuicRemit directly at (877) 705-4230. Customer service hours are Monday - Friday 8AM - 6PM Eastern Time. There are a variety of payment method options, and QuicRemit will make sure you are taking advantage of the best option for your organization
To receive claim status please feel free to call Sana at 833-726-2123 or email us at hello@sanabenefits.com.